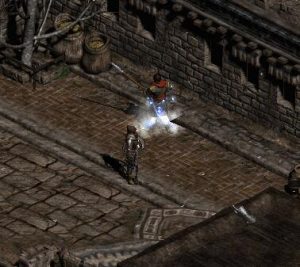 Diablo 2 paladin is the most suitable roles for rush. As a rusher, The security, fcr and damage very important.
The basic requirements of rush paladin are 75% block (after Holy Shield), high combat skill level and over 75% all resistance in hell games.
Main damage skill: Blessed Hammer/Auras: Concentration
Rush Paladin Gear Suggestion:
Armor: Breast Plate/Light Plate/Mage Plate Enigma
Weapon: HOTO 40% resistance
Sheild: Sacred Targe Paladin Spirit, With a +45 Resists Base
Helm: Shako 130 def+ (Socketed with a Ber Rune)
Gloves: Trang-Oul's Claws Heavy Bracers
Boots: Waterwalk 65 Life/20%ED Hotspurs
Ring 1: BK
Ring 2: 10%FCR rare/crafted ring
Amulet: Mara's Kaleidoscope 28% all res+
Belt: Arachnid Mesh Spiderweb Sash 110%ED+
Switch Weapon: Call To Arms 6BO(Flail or Crystal Sword)
Switch Sheild: Lidless or Any Paladin Spirit
Charms
Paladin Combat FHRs x 3
Other all Paladin Combat lifers
Paladin Torch
Anni
This build you will have the max 125% FCR and the +86% FHR
Merc select: Defense (Nightmare): Holy Freeze auras.
About the auras informationcan can be found http://www.items7.com/doc/mercauras.html
Merc Gear
Colossus Voulge/Thresher/Cryptic Axe Insight & Ethereal
Archon Plate Fortitude & Ethereal
Andariel's Visage & Ethereal You can socket with jewel to increase the res or damage.
Base Stats Points:
Strength: Can equip all items.
Dexterity: After all items equipped. Use Holy Shield and add to 75% Change to Block. This rate will change when you change your shield or your role level changed.
Energy: No need add.
Skills Points:
20 Blessed Hammer
1 Holy Sheild
20 Concentration
1 Redemption
20 Blessed Aim
20 Vigor
The rest point added to Holy Sheild.
Can you please send email to sales@items7.com if you have something you want talk with us.
Thanks for your reading.